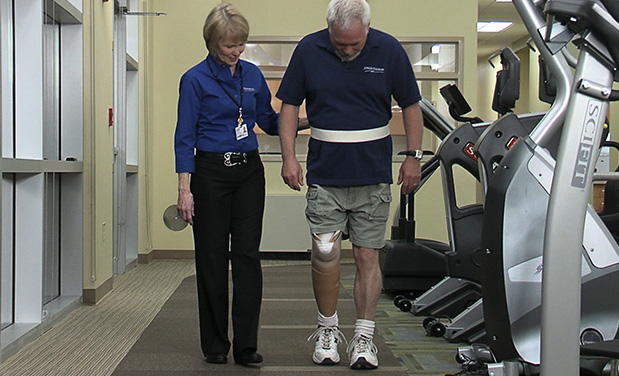 Our physical therapists treat patients of all ages using state-of-the-art equipment and technology. Plus, the one-on-one care they provide will help you become a stronger person.

Conditions We Treat
Our team offers physical therapy to provide evaluation and treatment for the following conditions:
Adhesive capsulitis (frozen shoulder)
Amputation
Bell's palsy
Bowel dysfunction
Burn and reconstructive surgery
Cerebrovascular accident (stroke)
Cervical, thoracic spinal strain, sprain
Coccygodynia
Diabetic plantar ulcers
Fibromyalgia
Foot and ankle injury and pain
Hand injury and pain
Joint, muscle injury strain and pain
Knee injury and post surgery
Low back strain, sprain, disc pathology
Lymphedema
Osteoarthritis, bursitis, tendonitis
Pain in chronic and terminal patients
Parkinson's Disease
Pediatric conditions, including cerebral palsy, developmental delay, Down syndrome, and muscular dystrophy
Pelvic pain
Peripheral nerve injury and neuropathy
Post fracture
Post joint replacement
Post mastectomy
Post-op pain
Rheumatoid arthritis
Rotator cuff tendonitis and repair
Sciatica
Scoliosis, other postural deformity
Shoulder dislocation
Spinal cord injury
Sports injury
Stress-related pain
Tension headache, post-traumatic headache
TMJ syndrome
Traumatic brain injury
Urinary and fecal incontinence

Special Rehabilitative Services
Whether you're recovering from a surgery, injury, or illness, our team helps patients of all ages through the physical rehabilitation process.
Some of the treatments we provide include vibration therapy, Solo Step, and the Biodex Balance System for balance and falling disorders. For foot and ankle rehabilitation we have the Bioness Foot Drop System. In addition, we offer state-of-the-art cold laser therapy to treat neck and back pain. We offer an indoor track to help get you back on your feet.
Plus, we offer aquatic therapy in a wheelchair-accessible pool and a HydroTrac treadmill. These offer excellent resistance without the need for weights.
Here is a list of the special rehabilitative services we offer:
Amputee training
Aquatic therapy/HydroTrac
ASTYM/Graston
Balance and fall assessment and training
Bioness neuromuscular re-education
Chronic pain management
Chronic regional pain syndrome
Cranial sacral therapy
Custom splinting
Fibromyalgia programs
Functional capacity evaluation
Gait training
Hand therapy
Incontinence training
Instruction in medical equipment
Intensive back rehabilitation
Joint mobilization
Kinesiotaping
Laser therapy/anodyne
Lymphedema rehabilitation/complete decongestive therapy
Myofascial release
Neurological evaluation and corrections
Non-invasive pain control
Orthotic casting
Pediatric assessment and treatment
Pelvic pain management
Posture awareness
Relaxation and meditation training
Shoulder, orthopedic, and general rehabilitation
Soft tissue mobilization
Spinal cord rehabilitation
Sports medicine evaluation and care
Stress management
TMJ evaluation and treatment
Total contact casting
Trigger point pain relief
Wound care clinic

Why Choose Us
Our physical therapists are dedicated to helping you get on the move again. From amputations to spinal cord injuries to orthopedic or neurosurgery, our team is dedicated to your complete recovery.