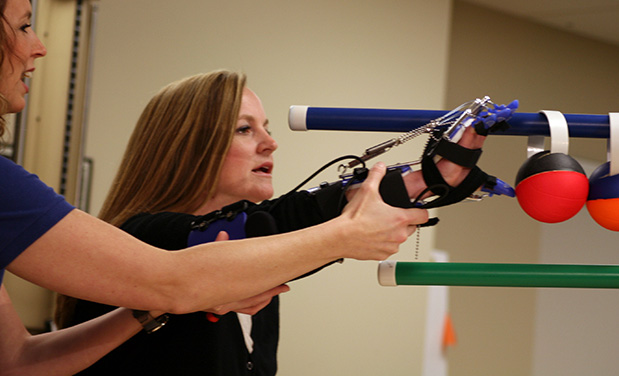 Our certified hand therapist provides innovative treatment for hand, elbow, and shoulder injuries. We can fabricate a customized splint for your hand or elbow injury.
Our Services
We provide treatment plans for a wide variety of conditions. Our therapists use heat, cold, fluidotherapy, paraffin wax, and other treatments to treat your dysfunction/pain. We help you understand your diagnosis while working with you to improve motion, build strength, manage pain, and maximize function. And because immediate treatment is important in many hand, forearm, and elbow injuries, we can treat walk-ins with a physician referral.
Diagnoses We Treat
Diagnoses treated by our team include:
Fractures and dislocations
Extensor tendon injuries
Flexor tendon injuries
Dupuytren's
Nerve injuries and compressions
Carpal tunnel syndrome
Cubital tunnel syndrome
Radial tunnel syndrome
Ganglion excision
Trigger finger
RSD/CRPS
DeQuervain's
Pain
Joint stiffness
Wounds and infections
Amputations
Tendonitis
Tennis elbow
Golfer's elbow
Tendon transfers
Rheumatoid arthritis
Osteoarthritis
Joint replacement/Arthroplasty
Burns
Distal biceps repair
Why Choose Us
At The Orthopedic and Neurosciences Center, you'll work with the same hand therapist throughout your treatment. It's one-on-one care that's hard to find anywhere else. We want you to understand your injury and your treatment, so if you have questions, we will find answers for you. With complete therapy services, pain management, sports medicine, orthopedic surgeons, and neurosurgeons in the same building, it's easy to collaborate to provide the best care possible.