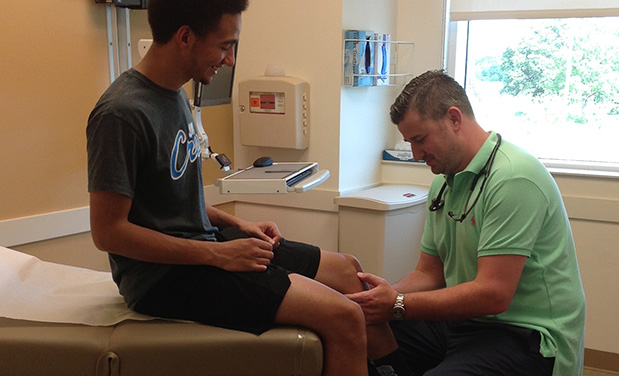 When it comes to an ACL (anterior cruciate ligament) tear, surgery and rehab are typically the best ways to treat this injury. Memorial's Orthopedic and Neurosciences Center can help you get back on your feet.
An ACL injury can happen when you straighten and twist your knee at the same time. Some symptoms you may experience with a torn ACL:
A popping sound at the time of injury
Pain
Swelling in the knee
Difficulty walking
Trouble straightening the knee
ACL Surgery
After the diagnosis from an emergency department, family medicine, or internal medicine doctor, a Memorial orthopedic surgeon can confirm the diagnosis and talk to you about surgical options, which may not take place until up to a month after the injury.

When it's time for surgery, your surgeon will reconstruct the ligament and fix any other parts of the knee that were injured during the ACL surgery. The surgeon will discuss the procedure with you.

After surgery, Memorial's Orthopedic and Neurosciences Center has physical therapists to help you get the use of your knee back. This may take anywhere from six to nine months.

The important thing to remember is Memorial's Orthopedic and Neurosciences Center is here for you from surgery through your recovery. Getting you back to your life is just part of what they do.
Schedule an Appointment
New patients should call (618) 767-7000 to schedule an appointment.